Rare 1988-W Proof Olympic Commemorative 2 Coin Set $5 Gold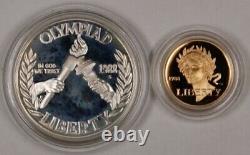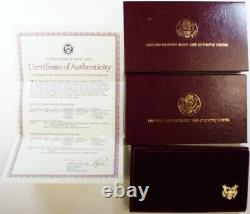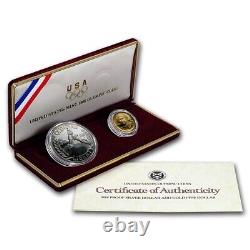 Participation in the Seoul Olympiad. Contains the Silver dollar and five dollar Gold coin. Comes complete with original box and a certificate of authenticity. Silver Obverse: Features a hand holding a torch lighting the Olympic torch, held by another hand. Silver Reverse: Shows the Olympic rings beneath the letters "USA".
Olive branches frame the images on both sides of the coin. Gold Obverse: Depicts Nike, goddess of victory, in a wreath of olive leaves. Gold Reverse: Features the Olympic Flame. Olympic Torch Silver Doller Proof: San Francisco + 90% Silver. Nike Liberty Gold Five Dollar Proof : West Point + 90% Gold.
Add this Olympic Proof Set to your cart today!