2014-W US Gold Half-Dollar Kennedy 50th Anniversary Proof 50C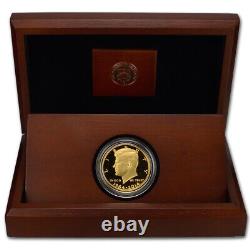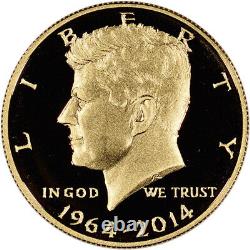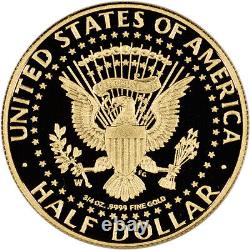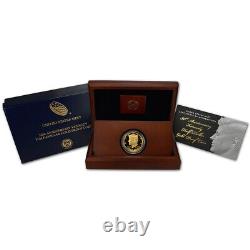 Serving Collectors and Investors for Over 50 Years. 2014-W US Gold Half-Dollar Kennedy 50th Anniversary Proof 50C. 2014-W US Gold Half-Dollar Kennedy 50th Anniversary Proof 50C Includes Original Mint packaging with Certificate of Authenticity Commemorating the 50th anniversary of the Kennedy half-dollar, the United States Mint will offer its first-ever gold half-dollar. Each coin contains ¾ troy ounce of pure, 24-karat gold and is struck with a proof finish at the United States Mint at West Point. Coin Designs The obverse (heads side) design of the 2014 Kennedy Gold Half-Dollar depicts a portrait of John Fitzgerald Kennedy, the youngest-ever-elected president.
United States Mint Chief Engraver Gilroy Roberts based this profile on a portrait prepared for Kennedy's presidential medal. The reverse (tails) design is based on the Presidential Seal and was created by United States Mint Sculptor-Engraver Frank Gasparro. It consists of a heraldic eagle with a shield on its breast holding a symbolic olive branch and bundle of 13 arrows.
It features the inscriptions UNITED STATES OF AMERICA, HALF DOLLAR and ¾ OZ. A ring of 50 stars surrounds the design, which gives this coin the distinction of having more stars than any other U. Coin ever produced for circulation.
The "Stock Images" used in this description are an indicator of the quality of the item you will receive. The actual item you will receive is guaranteed to be as described and depicted. Mint packaging and Certificate of Authenticity. The Date your Order is placed is considered Day Zero (0). If you need to change the Address you need to cancel your order and place a new order using the correct address.
We reserve the right to make Carrier and Service Level selection based upon operating conditions and order size, weight, destination and value. We are unable to accommodate requests for specific Carriers. We are not responsible for Carrier Delays due to operating issues such as bad weather, mechanical failures, or other service level disruptions. If your package has been Confirmed as Delivered by the Carrier, but you do not believe you received the package, please contact the Carrier directly. Bullion coins, bars and rounds are mass-produced and are not manufactured to the same quality standards as Collector Coins.
Listed prices for bullion products are firm and not negotiable. Prices will change with movements in the spot price of the underlying metal while precious metals markets are open. When purchasing "Random Brand" items you can expect to receive Brands and Design of our choice, based on inventory on hand when your order is fulfilled. Our inventory is located in a secure location with limited access.
We cannot accommodate requests to search for specific Brands. When purchasing "Random Date" coins, you can expect to receive Dates and Mintmarks of our choice, depending upon current stock on hand. We cannot accommodate requests to search for specific Dates. Pre-Owned Vintage US Mint Products. Except for current year products, nearly all of our US Mint products have been previously owned. Unless otherwise disclosed, all of our US Mint products come with their complete original packaging. We inspect all pre-owned US Mint products prior to offering them for sale.
We only sell sets that have passed our inspection; the coins are typically free of excessive hazing, spotting, or distracting toning. While these items are typically in very good condition for their age, these vintage products are not new. We typically have multiple quantities available of many of our most popular products. As a result we often use "Reference Images" to represent the actual product.
When a "Reference Image" is used to merchandise a product, that use will be disclosed in the Listing as follows: "The "Reference Images used in this listing Description were created by Liberty Coin for reference only to depict the quality of the item you will receive. You will NOT receive the exact item that was photographed to create the Reference Images.
However, the actual item you will receive is guaranteed to be similar to that shown and exactly as described. Prices and availability of products and services are subject to change without notice. Errors will be corrected when discovered and Liberty Coin LLC reserves the right to revoke any stated offer and to correct any errors, inaccuracies or omissions including after an order has been submitted and whether or not the order has been confirmed. Powered by Solid Commerce The All-in-One Listing, Inventory & Order Management Solution.