2014 Canada 14KT GOLD SUPERMAN $100 COIN Iconic Comic Book Covers 596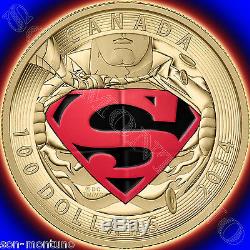 2014 CANADA 14-Karat Gold Coin - Iconic Superman Comic Book Covers: The Adventures of Superman #596 from 2001. A finely-detailed recreation of the cover of. The Adventures of Superman #596.
133893 Mintage: 2000 Composition : 14-karat gold Finish: proof Weight (g) : 12 Diameter (mm) : 27 Edge: serrated Certificate: serialized Face value : 100 dollars Artist : DC Comics (reverse), Susanna Blunt (obverse). Which hit newsstands on September 12, 2001, featured that most iconic Superman imageClark Kent peeling away his shirt to reveal the symbol that is forever synonymous with Superman. Despite the cover image (featured on the coin's reverse), the cover tagline states This is NOT a job for Superman. This teaser for the story titled Shipbuilding. Alludes to Superman's state of mind in.
In the aftermath of the tragic Imperiex War, many question why Superman appears unwilling to participate in the global recovery efforts. After Superman jumps into action to stop a weather catastrophe then rescues a construction worker, he is confronted by President Lex Luthor, who pointedly asks Superman why he doesn't take on all the recovery efforts himself.
In response, Superman explains that he has come to the realisation that he is not here to do everything for mankindotherwise, it would all mean nothing. Special features: A finely-detailed recreation of the cover of. Showcasing the iconic S-shield emblem that is synonymous with Superman.
A celebration of the iconic art that has graced the covers of Superman comic books throughout all eras of Superman's tenure, from 1938 to the present. Different finishes and expert engraving bring the dynamic movement of the reverse image to life, creating the impression that the S-shield is projecting from the coin. Advanced engraving techniques are used to frame the image within a series of concentric circles to create added depth and motion to the design.
Limited mintage for this 14-karat gold coin is set to only 2,000. A great gift for collectors and Superman fans. Design: The reverse image taken from the cover of.
Features perhaps one of the most iconic and enduring images associated with Superman: that of the famous S-shield. A partially obstructed view of Clark Kent allows the focus to remain on his chest as he rips back his shirt to reveal the emblematic S-shield. Colour is used to add depth to the image. The overlapping of Clark Kent's tie and buttons past the inner image, which is created by a series of concentric circles, further adds to the design's dynamic movement and helps create the illusion that the emblem is emerging from the coin. Did you know Superman's nemesis, Lex Luthor, ran for President of the United States in the 2000 election. He won but his term didn't last long before he was impeached! The S-shield on the cover of. Was noticeably different, replacing the yellow background with a black one.
It became a symbol of remembrance for those lost in the Imperiex War, which was chronicled in preceding issues. Since his first appearance in 1938, millions of readers and movie-goers have been captivated by the adventures of Clark Kent and his secret identity as Superman. Safe from the destruction of his home planet Krypton, the infant space traveller was discovered near Smallville, Kansas, by Jonathan and Martha Kent, who raised him as their son.
They instilled in him the strong values and beliefs that compel him to use his superhuman abilities for the greater good. As an adult living in the big city of Metropolis, Clark keeps his powers a secret thanks to his persona as a mild-mannered reporter; but as Superman, he becomes a powerful symbol of valour, strength and justice while battling some of the greatest villains of all time. Packaging: Your coin is encapsulated and presented in a premium graphic case with a beauty box. Please see our other listings for. More great coins & treasures. This teaser for the story titled Shipbuilding alludes to Superman's state of mind in. Order yours today before they're all gone! The item "2014 Canada 14KT GOLD SUPERMAN $100 COIN Iconic Comic Book Covers 596" is in sale since Thursday, May 17, 2018.
This item is in the category "Coins & Paper Money\Coins\ Canada\Commemorative". The seller is "son-montuno" and is located in Illinois.
This item can be shipped worldwide.
Country/Region of Manufacture: Canada
Certification: Mint COA (RCM)
Circulated/Uncirculated: Uncirculated